The growing urgency of this issue does not obliterate the need for sound and rational policy-making, writes Madeline Gleeson, from UNSW Republished in this article by The conversation.
Last month at the latest, at least 27 people drowned after her dinghy capsized while attempting to cross the English Channel to Great Britain. The International Organization for Migration called it the largest single loss of life in the sewer since data collection began in 2014.
While British Prime Minister Boris Johnson said he was "shocked and horrified and deeply sad"Through the tragedy, this will undoubtedly fuel the efforts by which much maligned. of the land to rush Law on Citizenship and Limits.
One of the aims of this bill, which will be debated again this week in the UK Parliament, is "Deterring illegal entry into the UK".
The growing urgency of this issue does not neglect the need for sound and rational policy making. In Australia we have seen the damage caused by hasty and poorly thought out asylum policies. It is deeply disturbing to see the British keg head down the same path.
Wrong assumptions about Australia's system
Much of the UK proposed "solution" for channel crossings borrows from Australia's efforts to "stop the boats" and prevent vulnerable people from looking for (or finding) them here.
The British proposal to allow asylum seekers to be "offshore" send them to Albania or another country is modeled on Australia's experience of sending asylum seekers to the Pacific states of Nauru and Papua New Guinea.
Given all we now know about the impact of offshore processing, it is amazing that the UK is trying to emulate it. Offshore processing was one absolute failure of the directive Here.
A group of Conservative MPs, including David Davis, have rightly questioned the humanity, feasibility and cost of the UK's takeover of Australian-style offshore processing. They have tabled an amendment which would remove offshore processing from the bill.
However, some other MPs believe the Australian model of offshore processing is "the best way to control illegal immigration" and "the most important step any sovereign nation can take to protect its own borders from illegal immigration".
One MP claimed the number of asylum seekers arriving by boat when offshore processing was introduced in Australia.immediately fell off a cliff".
Many of us watch these developments from afar with disbelief. The UK government appears to be taking claims by the Australian government at face value that offshore processing has been successful in halting the arrival of boats.
These claims do not stand up to scrutiny. They deny the government's own data and are not endorsed by any independent source.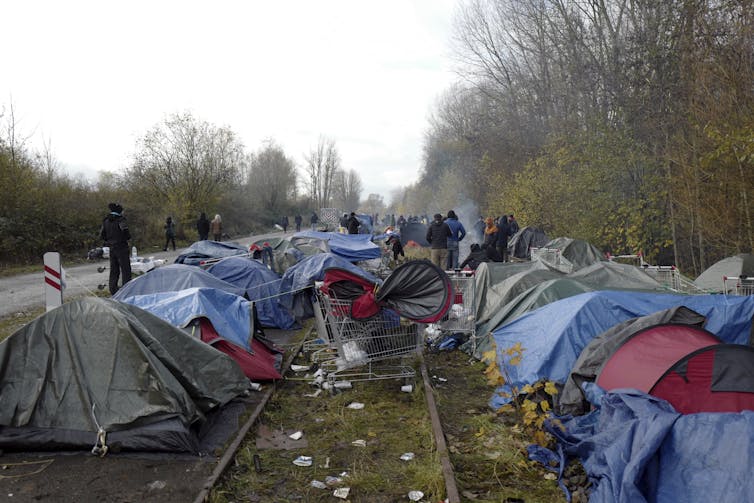 Misleading evidence about Australia's program
In September, George Brandis, the Australian High Commissioner in the United Kingdom, admitted what we believe to be imprecise and misleading evidence on offshore processing to the UK Parliamentary Committee responsible for examining the draft law.
My colleagues at the Kaldor Center for International Refugee Law and I have put before Parliament a punctual refutation on this evidence, addressing only some of the errors and misrepresentations.
One of the most serious problems has been the amalgamation of two very different policies – boat setbacks and the offshore processing system.
During the "offshore processing", asylum seekers were sent from Australia to Nauru and PNG to have their applications processed there. Australia stopped transferring newcomers abroad in 2014.
In contrast, the ship returns policy is underway and has largely achieved its goal of preventing the arrival of people by sea. Since the end of 2013, asylum seekers have been intercepted at sea and sent back directly to their countries of departure without being able to apply for asylum. the humanitarian consequences of the policy of reversal can be dire, especially for those who have returned to face persecution and grave human rights violations. It also violates international law.
Brandis falsely claimed that offshore processing and boat turnbacks were introduced at the same time. This gave the false impression that they are inseparable elements of a single approach to ship arrival, the effectiveness of which can only be judged holistically.
In fact, offshore processing was introduced in August 2012, a full year before Boat reversals. This year the number of boat arrivals continued to increase. Actually, more asylum seekers arrived in Australia by sea than ever before in history.
In fact, the government was only three months after the offshore processing policy was announced already forced to admit that more people had traveled by boat than could ever be accommodated offshore.
Export a cruel, inhuman and costly system
The fact that offshore processing didn't stop people from traveling to Australia by boat should be enough to end the UK debate. But there are other reasons why this Australian "model" should not be adopted elsewhere.
First, extreme cruelty is an inherent and inevitable part of the system.
the UN High Commissioner for Refugees and Doctors Without Borders found that mental illness rates among asylum seekers and refugees in Nauru and PNG are among the highest in any of the populations studied and among the worst they have ever experienced.
Pediatricians reported Children transferred to Nauru were among the most traumatized they had ever seen.
In fact, the Australian government was eventually forced to evacuate all families to Australia when previously healthy children were rare psychiatric illness known as traumatic withdrawal syndrome or "resignation syndrome". In the most severe stages of this disease, children become unconscious or comatose.
No liberal democracy should consider, let alone inflict such cruelty and suffering on people.
The Australian experience also shows that it is exceptionally expensive Implement offshore processing.
The costs keep increasing every year, with the policy expected to cost more than A $ 800 million (£ 424 million) in fiscal 2021-22even though it's there less than 230 people remained off the coast. The cost of housing a single person offshore on Nauru is now reported to have risen to A $ 4.3 million (£ 2.28 million) each year.
The UK government must account to taxpayers for billions of pounds spent on policies that are unlikely to achieve their stated goals.
Britain also hangs its hat to policies that may be declared illegal and never get off the ground.
In Australia, offshore processing has faced a constant barrage of legal challenges, many of which have forced the government to change or withdraw its policies high sums of damage.
In Britain, where human rights laws limit government power, the legal obstacles will be even greater.
The prospect of sending asylum seekers "offshore" may in theory be a convenient solution. But the reality of these policies in Australia has proven difficult, ineffective, expensive, cruel and controversial.
Madeline Gleeson, Senior Research Fellow, Andrew & Renata Kaldor Center for International Refugee Law, UNSW
This article was republished by The conversation under a Creative Commons license. read this original article.